Evolution Omega Racing Kayak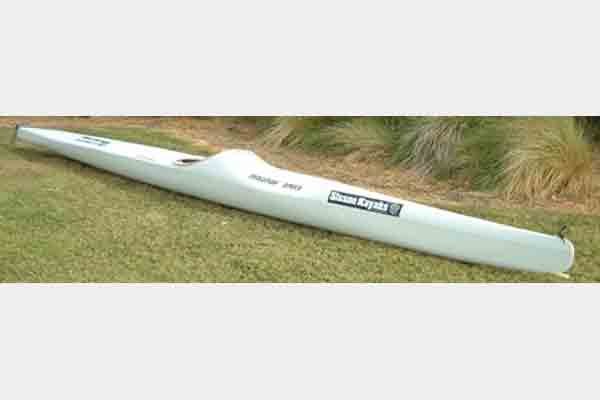 Seventeen years I had held off. In late 2008 I started creating the shape that would become the Evolution Omega. Surely the market will forgive me this time! And never forget the fact that the existing Evolution models are the winningest multisport kayaks in the world. So many wins in so many major races – and never overlook Keith Murray's Speights Coast to Coast record of 10 hours 36 minutes set in an Evolution Classic. Arguably the fastest kayak model for multisport in the world.
Since day one in this business, I have believed in zero hype . "No slogans – just facts". Any new kayak model must in all respects be superior to the one that it replaces. Hard to do – but since 1990 I had been experimenting with two separate – but harmonious – changes with the plan to make a better Evolution.
Change #1 was to adopt the Bifurcated Bow – a very clever invention of the ancient Inuit from the Bering Strait. Their craft (and amazing speed) was documented by Capt Waxell and Joseph Banks in the 1700's. My initial Bifurcated Bow experiments were fitted to a Woodstock Express early prototype using Ian Ferguson as the 'motor' – on Nelson Harbour – paddling between the ships with their bulbous bows! Do you get the picture?
Change #2 was to lengthen an Edge hull 200mm BEHIND the cockpit – making it  very 'bow-down' on the water. The original testing prototype was created and tested  in 1995 – then destroyed in the factory fire in 1996. Testing conclusion – even better 'run' and more stable than the Edge.
Some would expect this new longer Omega hull to be wetter for the paddler. WRONG. The Bifurcated Bow acts as a shock absorber. As the bow slams down onto the next 'green-water' wave, the Acetal plastic rod exhibits downwards drag. The Evolution Omega is in fact the driest Evolution model on big wavetrains. But hey – this advantage is also reported by bulbous bow ships crews.
Read more (second item from the top) here http://www.sissonkayaks.co.nz/blog/advice/frequently-asked-questions/
So – you may ask – is this new Evolution Omega faster? Multisport kayak performance is as much about 'greater-distance-made-good-for-lower-fuel-burn' as it is about 'speed'. But hey – this advantage is also reported by bulbous bow ships crews.
Evolution Omega testing has taken place on the  Rangitata Diversion Race (RDR), just over the fence from our Methven factory. Luke Vaughan has compared his Edge to his Omega over many 700 metre runs at 130 HBPM and 160HBPM
Shortly I will be posting some photos of Luke in action. The wave-making action of the Omega is considerably less than the wave-making of the Edge. The Omega was 'faster' than the Edge on every run. Less wave-making drag. Luke returned on a second day for further testing – same result. And when Basil Pettigrew did the same testing against his Edge – same result.
Strangely my biggest marketing nightmare has been one that I did not anticipate. How to convince my Evolution Classic and Edge customers that their beloved kayaks were partly obsolete? Slowly they came to believe my predictions. They ordered Omega kayaks.
All Omega customers have reported better than expected stability. Some, including Gordon Walker have been able to set their seats higher in order to achieve better paddling dynamics.
All Omega customers have reported better "run" between paddle strokes.
All Omega customers have reported drier paddling through big water.
All Omega customers have reported shorter paddle times on known courses (speed – how I think that word is miss-used when kayaking is just one multisport segment of a potential hit-the-wall race).
The Evolution Omega – paddled by Gordon Walker when he won the 2010 Speights Coast to Coast race – and set the fastest 2010 Longest Day paddle time. The Evolution Omega – paddled by Dougal Allan when he came a close second to Gordon. Gordon is a man of few words. "Awesome" will suffice.
The Evolution Omega is a 'Clean-water' kayak. For use on 'dirty-water' a replaceable 'fillet' is currently being developed.
The Evolution Omega – it could only have come from a semi-retired (but proven) kayak designer who could not really care what the current 'cafe-influenced' (kayak has to look great on roof rack) multisport kayak market (slow over-caffinated sheep sitting inside converted surf skis?) really thinks. My kayak business is just a 30 BoatsPerYear retirement hobby. Totally impervious to boycott! It also helps greatly if that same kayak designer invented the original parameters for REAL multisport kayaks way back in 1987. It mainly helps that this same proven kayak designer can publicly admit the whole 1994 Woodstock Express false-lead design fiasco. LOL.
Random photo (refresh browser several times) at the top of this page. Check out Gordon Walker winning at Motu in his beloved (nicely trimmed) Edge. Note the Woodstock Express lookalike (sinking stern – bow aimed at the moon) following in the distant background. Laugh Out Loud. LOL. Lots Of Laughs. Take your pick!
For the record #1.
At the time of the 1996 factory fire we had traded back (swapped at no cost) almost all of the Woodstock Express kayaks ever sold. About 20 of these were destroyed in that fire. YEAH! The surviving two have since been gifted to Mt Hutt College, Methven, for the students to gain paddling experience on the RDR. Not a river – so they work great for that job.
For the record #2
The hull of the Woodstock Express was created in 1990 and tested by Ian Ferguson. The deck was created after gathering customer feedback over the next two years. Everything was done slowly and properly. The resulting product was a total disaster!
For the record #3
The Evolution Omega was developed in total secrecy. Zero customers were asked what they wanted. I worked fast-and-dirty. Any mistakes are 100% mine. And the best reason for bringing it into production – I wanted an Omega for myself – and I love it!
For the record#4
As early as 1976 our weekly output of kayaks often exceeded my own 2010 annual target of 30 BoatsPerYear – just a ripple on the pond.
Posted in: Multisport Racing Kayaks