Evolution Omega Racing Kayak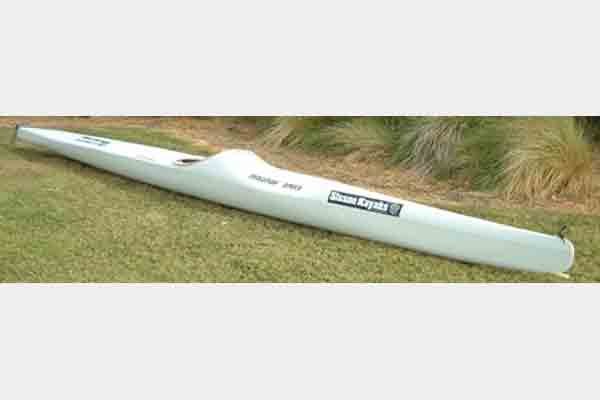 Over the last quarter century many other manufacturers have tried to make a better Coast to Coast race-winner kayak – than the Evolution. Those who seem to have come closest seem to have 'borrowed' some of the Evolution Edge hull design.
Some manufacturers talk about their boats being "freekin"fast. In actual fact, a Coast to Coast winner will NOT be paddling at the same heart-rate as he / she would wish. Over the years several heart rate studies have been independently conducted on Longest Day Coast to Coast competitors. Falling heart rate over the duration of the paddle is the norm.
We did some amazing tests in the Rangitata Diversion Race – using Luke Vaughan as a constant 160 hbpm or 130 hbpm 'motor.
What is really needed is a kayak that provides the greatest distance-made-good – for the lowest fuel burn. Maybe in another 10 years 'The Market' will learn this fact.
Ships achieve this by using technology first developed hundreds of years ago by the Inuit. I refer to ship bulbous bows. I refer to Inuit bifurcated kayak bows.
Like a ship the Evolution is a displacement vessel.
This is Luke in the Evolution Edge – paddling the Rangitata Diversion Race – 50 metres from the SK factory.
Change #1 was to adopt the Bifurcated Bow – a very clever invention of the ancient Inuit from the Bering Strait. Their craft (and amazing speed) was documented by Capt Waxell and Joseph Banks in the 1700's. My initial Bifurcated Bow experiments were fitted to a Woodstock Express early prototype using Ian Ferguson as the 'motor' – on Nelson Harbour – paddling between the ships with their bulbous bows! Do you get the picture?
Change #2 was to lengthen an Edge hull 200mm BEHIND the cockpit – making it  very 'bow-down' on the water. The original testing prototype was created and tested  in 1995 – then destroyed in the factory fire in 1996. Testing conclusion – even better 'run' and more stable than the Edge.
Some would expect this new longer Omega hull to be wetter for the paddler. WRONG. The Bifurcated Bow acts as a shock absorber. As the bow slams down onto the next 'green-water' wave, the Acetal plastic rod exhibits downwards drag. The Evolution Omega is in fact the driest Evolution model on big wavetrains. But hey – this advantage is also reported by bulbous bow ships crews.
Read more (second item from the top) here http://www.sissonkayaks.co.nz/blog/advice/frequently-asked-questions/
So – you may ask – is this new Evolution Omega faster? Multisport kayak performance is as much about 'greater-distance-made-good-for-lower-fuel-burn' as it is about 'speed'. But hey – this advantage is also reported by bulbous bow ships crews.
Evolution Omega testing has taken place on the  Rangitata Diversion Race (RDR), just over the fence from our Methven factory. Luke Vaughan has compared his Edge to his Omega over many 700 metre runs at 130 HBPM and 160HBPM
Strangely my biggest marketing nightmare has been one that I did not anticipate. How to convince my Evolution Classic and Edge customers that their beloved kayaks were partly obsolete? Slowly they came to believe my predictions. They ordered Omega kayaks.
All Omega customers have reported better than expected stability. Some, including Gordon Walker have been able to set their seats higher in order to achieve better paddling dynamics.
All Omega customers have reported better "run" between paddle strokes.
All Omega customers have reported drier paddling through big water.
All Omega customers have reported shorter paddle times on known courses (speed – how I think that word is miss-used when kayaking is just one multisport segment of a potential hit-the-wall race).
The Evolution Omega – paddled by Gordon Walker when he won the 2010 Speights Coast to Coast race – and set the fastest 2010 Longest Day paddle time. The Evolution Omega – paddled by Dougal Allan when he came a close second to Gordon. Gordon is a man of few words. "Awesome" will suffice.
The Evolution Omega is a 'Clean-water' kayak. For use on 'dirty-water' a replaceable 'fillet' is currently being developed.
2018 Bulbous Bow Update
At the time I decided to try bulbous (inuit bifurcated) bows on kayaks, the ship designers knew it worked – but the science had not been resolved. In 2017 the science seems to be more advanced – whilst stating bluntly it will never work on a small pleasure craft like this:-
Results – from being inquisitive
Maximum speed  of 13.1 kph unchanged
Throttle back to 1/3 setting – the cruise speed is still 11 kph.
7.5 kph at engine idle. Terrifying overspeed approaching jetties and moorings.
Improved straight-ahead course setting – zero wandering in any conditions
Bow less likely to 'blow away' approaching jetties.
Heaps of fuel saved at cruise speed.
It works!
Posted in: Multisport Racing Kayaks