NZ Alpine Resort Slope Culture & On-Piste Ski Patrol patrolling
NZ Ski Patrol Off-Piste protection is functioning well.
Do you believe that NZ Ski Patrol protects you On-Piste?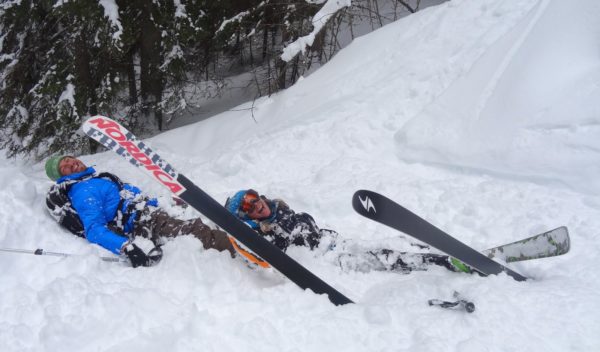 Having suffered a 2017 double concussion with GP feared brain-bleed – when hit from above by a Crombie Lockwood corporate moron ("I did not see you") – this subject is relevant to me.
At this stage I simply ask questions. The answers are devastating.  The lack of resort Duty-of-Care is – in the event of a person-to-person impact death – criminal.
It is my belief that the impacted walking wounded simply head straight to their own GP via the resort carpark. The resort stats are fake due to the $95 resort Medical Centre charge being rejected as useless (as I did). Many of the impacted never ski again.
I have suffered two from-above impacts in the 2018 season. Plus many near-misses.
Read the emails between Karen Boserio and myself. Karen is a part of the team that trains NZ Ski Patrol.
Hi Grahame
Thanks you for your email and insightful question.
Although the words crowd control are not specifically stated in the our Slope management course descriptor (below), the traffic control aspect of slope management is a one of the patrol functions our students learn during the 6 week work placement section of the programme. This is because they can learn it in the real world with real clients. Whilst at work placement, they are assessed in their capability to interact with clients who break the snow code and are required to reach a positive outcome.
The larger snow sport areas (who are the main places to experience this issue) have courtesy or trail crew departments who answer to the ski patrol department. Their main role is traffic control and client education. Smaller ski areas manage this within the patrol itself.
Most ski patrol welcome open conversation, so you could talk to the Ski patrol manager(s) at the ski area(s) you use to ask about their specific management system.
Kind regards Karen
Slope Management
The aim of this course is to provide students with the skills, experience and judgment needed to manage and communicate hazards on a Snowsport Area.
By the end of this course students will be able to:
Assess conditions and identify hazards in a whole mountain context
Continuously evaluate, mitigate and communicate hazards in adherence with Snowsport Area SMS
Demonstrate basic knowledge of Snowsport Area locations and systems
Communicate effectively with all stakeholders and operate within scope of practice
Karen Boserio Ski patrol Programme Leader
Varina Place 15 Cliff Wilson St Wanaka|PO Box 375 Wanaka
ddi 03 443 4192 | cellphone 027 2890274|.
www.tpp.ac.nz/skipatrol
From: Reception
Sent: Thursday, 22 February 2018 3:33 p.m.
To: Karen Boserio
Subject: FW: Attention Karen Boserio Please
From: Grahame Sisson, Sisson Kayaks [mailto:grahame@sissonkayaks.co.nz]
Sent: Thursday, 22 February 2018 3:00 p.m.
To: info <info@tpp.ac.nz>
Subject: Attention Karen Boserio Please
Dear Karen
As a skier heading for my 63rd season I wish to state that the modern ski patrol – as trained by yourself – have tamed-the-mountain. Within reason (my head) and bounds (the expertly patrolled resort) I no longer fear the mountain.
What I fear is colliding with others. Being hit! Fair to state – some of the very reasons I was attracted into the mountains – are now gone. But the joy of the modern equipment has become a new attraction. Plus, at age 75, my similar age friends moan about the onset of winter – when I can be seen standing in a storm saying "bring it on". Positive – the winter passes too fast!
Some of the 'others' who hit (collide with) me seem to have an attitude problem. People assume the Ski Patrol will administer slope safety. I do not think this assumption is correct. Nowhere in your course list do I see crowd control listed.
Can you please clarify if modern Ski Patrol are involved in resort slope crowd control?
Regards
Grahame Sisson
Is that  you – in the photo above? Have you – or any family member – been involved in an on-piste collision?
Was your collision due – in your opinion – to the other slope user being Reckless?
Do you consider your Alpine Resort management display sufficient Duty-of-Care – by sending Reckless on-piste slope users home ticketless?
What is your honest opinion relating to the new NZ Slope Safety Code?
Can this new Code be effectively applied against the Reckless slope user?
What in your opinion was wrong with the 'old' (international) Slope Safety Code?
Could this Code be applied against the Reckless slope user?
Do you consider that the new Code better prevents you from on-piste collision?
Do you believe that on-piste slope collisions have reduced 75% since 2014?
Have you witnessed more/less on-piste collisions than in the recent past?
Did Ski Patrol attend your on-piste collision? Did you witness the removal of the lift ticket from the on-piste Reckless slope user?
How long did Ski Patrol take to arrive at the on-piste collision scene?
Did you receive on-piste assistance from any other Resort staff?
Were you injured sufficiently to need to walk to the resort Medical Centre?
At the Medical Centre – were you asked for a $95 payment – prior to any documentation or consultation?
Did you make an Accident Compensation Corporation (ACC) claim? At the Resort Medical Centre – or your own GP?
Were you satisfied with the outcome of that claim? Did you later approach ACC SportSafe suggesting on-piste safety improvements?
Did you discuss your on-piste collision with your resort management?
In your opinion did your resort management appear to be lacking in alpine resort training relating to slope-culture crowd control?
In your opinion – does your Resort Top-of the-Leader-Board – encourage Reckless On-Piste attitude?
In your opinion did your Resort manager display concern mostly about improved on-piste alpine cultural attitude or improved short-term Resort financial viability?
In your considered opinion – do you consider that your resort 'Duty-of-Care' is proactively attempting to reduce on-piste Recklessness?
Have you ever witnessed the consumption of illegal drugs in your Resort car park?
Who did you report this to?
In your opinion – should the policing of the on-piste slopes be conducted by POLICE?
Do you consider that your resort should apply Comfortable Carrying Capacity (CCC) and Skiers at One Time (SAOT) to their on-piste operational plans?
Are you terrified of being 'slammed-into' by another on-piste Reckless slope user?
Has the overall experience of the physical hammering made you consider going elsewhere – or giving up Alpine visits entirely?
The key questions in bold, #11, #15 & #20 are the crucial pivotal safety topics.
Some relevant links.  Like (click here) this – or (click here) this – or (click here) this?
We are living through a Fourth Turning bad-attitude-to-others epidemic. Slope users, road users (click here) or (here) and surf (click here) users (or here) are all aware of this.
Within the Questions above I have highlighted the words Duty-of-Care and Reckless. These are legal terms which have been used successfully in overseas on-piste collision litigation. – keep reading.
Colorado Skier Is Convicted In Fatal Collision on Slopes
NOV. 18, 2000
Reflecting on the trial's outcome, the prosecutor, Michael Goodbee, said: "I think we did a lot of good today and we made the ski world a safer place. I think it sends a message to safe skiers and potentially unsafe skiers that there is accountability;

you can't just walk away because it happens on a ski slope."
A 21-year-old man has been convicted of criminally negligent homicide in what lawyers describe as the first criminal trial of a skier who accidentally caused the death of another on the slopes.
A jury of seven men and five women, all of whom said when selected for the panel that they were either skiers or snowboarders, returned the verdict late Thursday night in Eagle County District Court. The defendant was Nathan Hall, who had been charged with reckless manslaughter. The lesser charge of which he was found guilty could bring him as much as six years in prison when he is sentenced in January.
Other skiers and snowboarders have been prosecuted for causing injuries on Colorado slopes, in cases that were adjudicated before trial. And there have been trials for civil damages involving ski-slope fatalities. But lawyers involved in the case here said there had never before been a criminal trial of a skier for such a death.
The fatal collision occurred in the spring of 1997. Leaving work, Mr. Hall, then an 18-year-old lift operator at the top of a ski run at nearby Vail Resorts, took off down the mountain, and soon lost control. He crashed into Alan Cobb, 33, a cabinet maker who lived in Denver, one of his skis striking Mr. Cobb in the head.
The recklessness that the prosecution attributed to Mr. Hall, who had been a ski racer in high school in California, centered on a rate of speed that witnesses described as much too high. He was also convicted on Thursday night of possession of less than one ounce of marijuana and possession of alcohol by a minor, although he tested negative for marijuana after the accident and was not legally drunk
Reflecting on the trial's outcome, the prosecutor, Michael Goodbee, said: "I think we did a lot of good today and we made the ski world a safer place. I think it sends a message to safe skiers and potentially unsafe skiers that there is accountability; you can't just walk away because it happens on a ski slope."
Brett Heckman, the defense lawyer, said he believed that the "culpability didn't rise to the level of felony" and that Mr. Hall was "heroic" for fighting the charges. Asked about the prospect of an appeal, he said it would be up to the Hall family.
Mr. Hall himself said in a brief statement: "I think about Alan Cobb and his family every day. I hope everyone can move forward towards a brighter future. I'm thankful this is over."
The trial followed years of legal wrangling in which courts twice dismissed the case, finding that no reasonable person could have expected that excessively fast skiing would bring another person's death. But the Colorado Supreme Court reversed those decisions this year and ordered the case to trial. Testimony began on Monday.
The evidence heard by the jurors included an audiotape in which Mr. Hall, being treated at a hospital for a concussion and a cut above his eye and apparently unaware of what had happened to Mr. Cobb, told a sheriff's deputy: "I tried to slow down. I was trying to get control. I went off a knoll. I was off my feet. I'm an expert skier. I can stay in control all the time. I just hope I didn't injure another person."
The defense maintained that Mr. Hall could not be held criminally accountable, that conditions on the slope at the time were poor, with slushy snow creating moguls, or small hills, in the run.
"Nathan is not a killer," Mr. Heckman said in his closing argument. "It is a tragic accident."
Mr. Cobb, whose family later settled a civil claim with Vail Resorts for an undisclosed sum, was skiing that day with his fiancee, Christi Neville, who gave tearful testimony this week. She said after the verdict, "Skiing should be a safe and fun sport where families can take kids without being slammed down by an employee of the resort and killed."
The killing of Mr. Cobb was soon followed by the highly publicized skiing accidents that took the lives of Michael Kennedy and Sonny Bono on Western slopes, and there has since been increased safety consciousness. Many resorts in Colorado, including Aspen, Breckenridge and Vail, have added programs that provide more safety patrols and more warning signs.
According to the National Ski Areas Association in Denver, there were 30 ski slope deaths in the 1999-2000 ski season, compared with 34 the previous season, even as the number of skier visits rose slightly, to an estimated 52.2 million last season from 52.1 million in 1998-99.
But skiing deaths, of course, do not account for all skiing accidents. "With higher-speed lifts, more skiers on the slopes, higher-technology skis and gear, and groomed slopes, there are more people going faster on more crowded slopes," said Jim Chalat, a Denver lawyer who has represented many people with ski injuries. "Intuitively, there's a greater risk for collision."
Mr. Chalat said prosecutors in other states would most likely refer to the Colorado Supreme Court decision in proceeding with criminal charges in ski accident cases.
"There is a very strong belief," he said, "that criminal prosecution will deter this conduct in the future."
Posted in: News