Astrolab Sea Kayak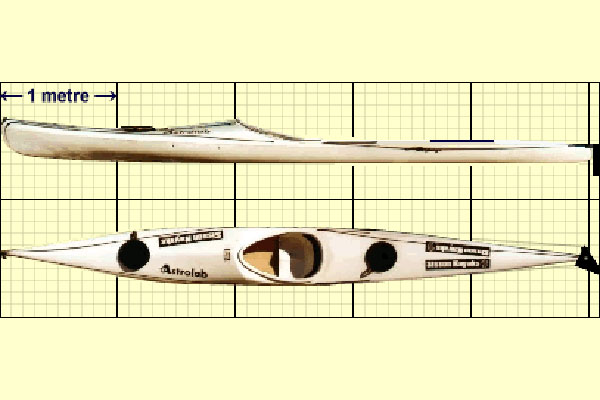 December 2019. Production continues in Winton. Email Rikki Griffin – rikki@nautiquekayaks.co.nz – find out more.
Our Eliminator customers demanded the Pepin.
Now our Esprit customers demand the Astrolab as a go-fast, budget sea kayak that knocks the socks off (faster than) any 'Tupperware' boat of similar value. On land this kayak is light enough to carry your paddle in one hand and the kayak in the other – just try doing that with most similar priced 'plastic' sea kayaks!
Are you a Multisporters who lives near protected open water?
Are you forced into training on your own?
Do you dabble in kayak camping?
When it comes to rivers, do you mainly paddle those like the Wanganui?
Do you already own a heavy, high-drag plastic sea kayak?
If you answered "Yes" to one or more of these questions, an Astrolab could be the boat for you. Such a purchase could save you thousands of dollars.
The ASTROLAB is a sea kayak version of the ESPRIT.
The hull through the mid-section is strengthened against impact by adding two extra unidirectional roving beams of 23000 fibres each.
Two bulkheads are glassed in from both sides to seal the ends into compartments. The reserve buoyancy of a tipped over and flooded Astrolab is very high. Hatches are fitted to these compartments so that camping gear can be carried.
Decklines are fitted so that solo self rescues can be undertaken with confidence.
The Overdeck rudder is the same rugged unit used on thousands of our multisport kayaks since 1986.
Refer "Pepin" page for more details on the features of the Astrolab construction and fit-out.
When compared with other manufacturers offerings in this niche, the Astrolab out-performs them all on both performance and price.
Posted in: Sea Kayaks