Eliminator 97 Racing Kayak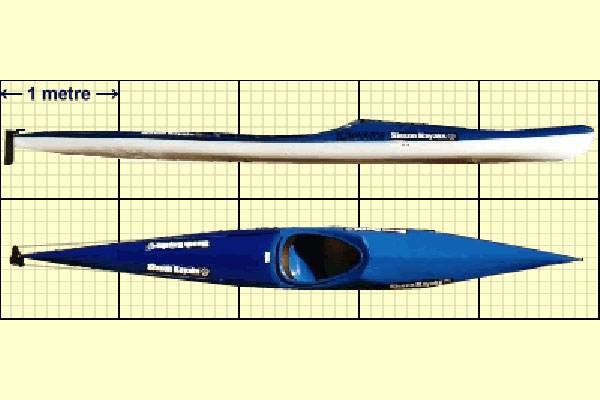 December 2019. Production continues in Winton. Email Rikki Griffin – rikki@nautiquekayaks.co.nz – find out more.
Michael (who) Jacques, writer, once stated "The Eliminator is only just fast enough not to be laughed at".  Hahahahahahaha from Grahame.
Clearly the Eliminator is not slow. In 2018 the Eliminator is still sought after. Not so sure about the opinions of the above failed writer.
In 1991, using Steve Gurney as a 'motor' at 160 hbpm we tested many of our kayaks against a constant heartrate (equal power) and using water pressure manometer to register speed. The Evolution Classic pushed a pressure of 11 on our scale. The Eliminator pushed 9. Steve and I were staggered – it seemed too fast. The conditions were calm on Nelson harbour. Same result when we re-tested the Eliminator. This kayak goes very well with a strong motor!
On Friday 14th May 2010 we retested the Eliminator using GPS and Luke Vaughan as a motor at 130 hbpm. The conditions were calm. The Rangitata Diversion Race was flowing a constant rate to the power station. The measured course was 700 metres long.
The Evolution Omega runs averaged 2 minutes 49 seconds. The Eliminator was tested at just 16 seconds slower. SIXTEEN SECONDS off One hundred and sixty nine SECONDS! Barely worth working out the percentage loss if this had been a rough and shallow river course.
There are also two other 'hidden' Eliminator 'real-race' gains to be had. The Eliminator has a real DRR type bow. The deck will stay drier in big water – meaning less drag. And the hull draws less draft than an Evolution – so it will still be floating when the narrow hulls are dragging stones. Maybe in real terms the difference would only be 10 seconds over 700 metres of flowing water!
Michael Jacques – he quite clearly needs some paddling technique lessons. No-one likes to be laughed at. He 'fitted' people up – needlessly influenced them – for reasons best known only to himself – so that they purchased narrow 'needles' that launched them into a different sport as swimming stars. Many did not come back for a second session. They enjoy the fine art of breathing air too much.
We have so many happy Eliminator customers who would know that Michael wrote his stupid article based only on personal bias. Michael – stick to running advise in future. It could be argued that Michael played a strong role in the gutting of a great sport – Multisport.
Many years ago, Iron Man Geoff Mathews and yachtsman Grant Dalton had a grudge race at the Whanganui Descente race. They were both kayak beginners in Eliminators. Guess what? They cleaned out most of the field completing a 90 minute (winners time in Evolution) section only five minutes off the pace! Further proof real performance.
When Nathan Fa'avae lived at Anakiwa he reported that his paddling times to Picton were almost the same in his Evolution Classic and his Arctic Raider. The Eliminator uses an Arctic Raider hull form. More proof that provided the Eliminator paddler has good and strong technique, it will perform at a high level.
We have built more than 1000 and less than 2000 of these most popular boats.
Pre 1996 Eliminators are not quite as well designed for wing paddle use as the Eliminators we build now. For the 97 version we retained the famous 'Fishform' hull. The deck has many slight improvements aimed at providing a better, more powerful paddling position and much improved comfort and ergonomics. There is more foot room so that running shoes can be worn. There is even more knee room so that the knees can be worked to get more power from a wing paddle.
How does our new Eliminator 97 look on your roofrack? Racy!!!
What's in a name?
Eliminator the 'beginners' boat that wants to go faster than it should. Proven performance by non-swimmers over so many years.
Currently our top selling 'beginners' model. Proof that dedicated non-swimmers are getting into multisport.
Posted in: Multisport Racing Kayaks