Evolution CLASSIC Racing Kayak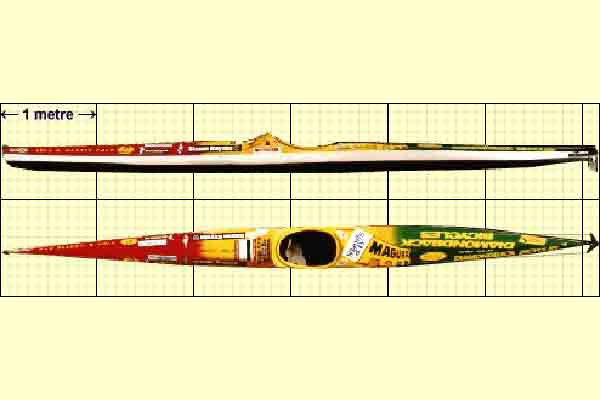 December 2019. Production continues in Winton. Email Rikki Griffin – rikki@nautiquekayaks.co.nz – find out more.
As used by Keith Murray to set his 1994 Speights Coast to Coast Longest Day record.
(Optimised for paddlers 75kg upwards)
How did this kayak Evolve?
The Evolution Classic was developed (under extreme pressure from the visionary demands of Steve) over the Christmas close-down period of the 1988-89 summer. Steve set the requiered length and volume needs. The rest of the design was 50% / 50% Steve / Grahame with Steve arguing for the water and Grahame arguing for the wind. The whole object of the exercise was to help Steve win a BMW car by breaking the Speights Coast to Coast Longest Day record. It is a matter of record that Steve Gurney did win that BMW – by turning out an amazing paddle performance.
Since those early days, using an Evolution Classic, Steve has won the Speights Coast to Coast many more times , sometimes taking out the 'FASTEST PADDLE OF THE EVENT' prize for good measure. He has also won hundreds of other races, thus cementing his position as the worlds greatest multisporter.
In early 1990 the Evolution Classic started a unique New Zealand phenomenon – the 'Long Boat'.
Often copied – not yet equalled! Except by our Edge!
The current Speights Coast to Coast Longest Day course record of 10 hours 34 minutes was set by Keith Murray in the 1994 event. Keith used a 17kg (he wanted durable reliability!) Evolution Classic for the kayak paddle section. Durable – Keith still paddles this same robust kayak in Dec 2000 (finally written off in the Rangitata Gorge in 2001) and is emphatic that, for endurance events, ultra light kayaks are not the advantage that some would claim. Keith's record stands secure. So does his practical race winning strategy!
Posted in: Multisport Racing Kayaks