Evolution EDGE Racing Kayak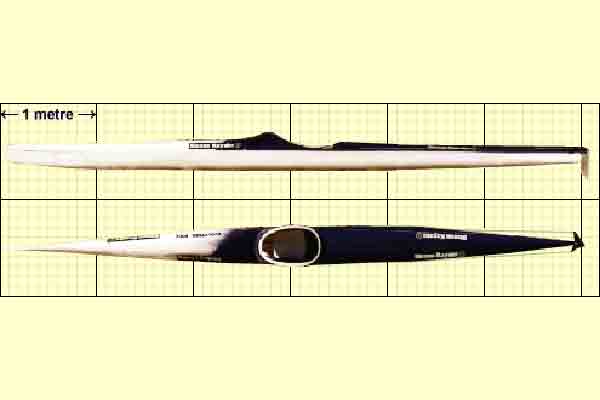 December 2019. Production continues in Winton. Email Rikki Griffin – rikki@nautiquekayaks.co.nz – find out more.
(Optimised for paddlers up to 75kg)
How did this kayak Evolve?
At the time that Steve Gurney and Grahame Sisson designed the kayak that we now know as the Evolution Classic, the rough work-of-art shape (plug) more closely resembled the kayak we now know as the Evolution Edge. Suffice to say that between the initial shape development and the creation of the first boat (Steve's) the boat became wider and more stable. The final shape was not exactly what Steve had in mind. It was a boat that Grahame (and a wider customer base) could also paddle!
So, in order to restore a good friendship, we next created the boat that Steve thought he was getting in the first place. We called this boat the Evolution Edge. The first production Evolution Edge left our factory in October 1992.
When the heat came on Steve at the 2001 Speights Longest Day, he sought every advantage he could find. He chose a carbon Edge and used it as a weapon on the river. Going onto the river Keith Murray (even record holder) had a commanding lead of around 10 minutes. Keith was 50 metres behind Steve at the Gorge Bridge. Steve paddled the river 6 minutes faster than any other event (including Two day teams and Individuals) competitor. Viva La Edge. Steve is delighted that the Edge really gave him an EDGE. It took a while but at last Steve has used effectively the weapon he helped design 12 years ago.
The Evolution Edge has finer entry, 35mm narrower footrest, is 25mm narrower at the seat and generally lower volume. The narrower water-plane allows lighter paddlers to press the hull to deeper draught, thus achieving maximum waterline length.
Over the years many paddlers have won many races using Evolution Edges. A skilled fresh paddler using an Evolution Edge is a hard competitor to beat.
Witness Steve Gurney – fastest paddle overall, 2001 Speights, by 6 minutes! Steve beat Teams kayak specialist Paul Massey by 9 minutes. Not an error – 9 MINUTES! Steve is just delighted with his new boat!
Witness Andrew Martin of Andrew Martin Kayaks. For Multisport events through the 2001 season Andrew paddled an Advantage, Sprinter, Pinnacle, Evolution Edge. These days Andrew builds Legend paddles and is free to choose the best boat.
Witness Graeme Causer taking out the fastest paddle at the 1997 Kaniere Tri.
Witness Ian Ferguson and Neil McConnell battling for 1st place on the water at the 1996 Crater to the Lake.
Witness Neil McConnell repeatedly winning paddle sections of many races.
Witness John Jacoby's many wins at the (Vic, Aust) JLL Challenge.
Witness Peter O'Sullivan who dares to beat other top paddlers by ridiculous time percentages. Peter has encouraged large numbers of Manawatu paddlers to also purchase and race Edges. Witness the 2001 Rangeitiki Kayak Race results.
Which Evolution is best for you?
Sorry – that is your choice. For the Speights Coast to Coast Longest Day, Steve Gurney used to prefer the extra stability of the Evolution Classic. However for the 2001 event Steve has a brand new Edge which helped win him the race. For almost all of the races Peter O'Sullivan competes in, he uses an Evolution Edge.
Our high-skilled multisport customers have a true choice.
In July 2003 Ben Fouhy (World 1000k Sprint Champion) wrote:
"Thanks for your consideration".
"In response to people saying that I would win (multisport racing) in any boat, my answer is that it is likely true, yet I can paddle any boat, having been offered an F1 in the past, having access to a UFO and an Advantage, but I have CHOSEN to paddle an Evolution Edge."

"Often people ask me my opinion on the differences between the top boats, and this is my opportunity to expel the virtues of your boat design, as people have sought my opinion, this happens very regularly".

"I believe that the Edge or Classic is the boat of choice because in my opinion there is a difference between maximum speed and boat run. While the Evolution, being a larger boat might not be a fast boat over a 500m race which is totally irrelevant (and debatable), in my experience it has more boat run, distance per stroke. Making it more economical to paddle over a distance race."

"I genuinely believe the Evolution was well ahead of its time, having similar qualities in hull shape to the latest K1's in Europe having very even curves from front to back and the U shaped hull gives good run."

The volume in the top deck and the boat in general is advantageous on rivers and sizable rapids, especially the Waimak, as I have found with lower volume boats lose speed very quickly when the water comes over the top."

"I have experienced this paddling down the Waimak with lesser paddlers who I have thrashed days earlier on flatter rivers, then been frustrated as I haven't been able to pull away from them." "That is why I have chosen your boat."
Note:
We state above that the Evolution Edge is optimised for 75kg paddlers. This statement means a 75kg paddler will press the kayak draft deep enough to obtain full waterline (aerobic speed potential) length. The Evolution Edge can be effectively paddled by any paddler who fits into the (in its class) roomy cockpit.
The Evolution Edge is primarily designed as a riverboat for use by high-skilled paddlers. As a bonus the Evolution Edge also works very well on open water.
Posted in: Multisport Racing Kayaks