Evolution EXTREME Racing Kayak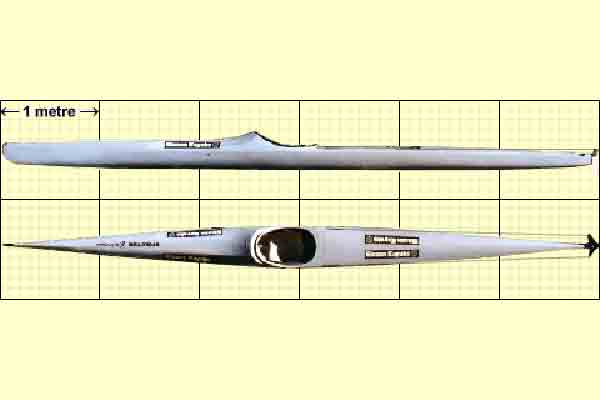 December 2019. Production continues in Winton. Email Rikki Griffin – rikki@nautiquekayaks.co.nz – find out more.
(Optimised waterline length for 60 kg paddlers)
How did this kayak Evolve?
In 1995 our factory manager Andrew Pfahlert (60kg light) needed a fast boat to use in the Portage Race. His custom built one-off boat (fabricated from bits of this kayak and that kayak) worked so well that a decision was made to made production moulds off the design. So Andrews' one-off special lives on for others to experience.
Warning: The Evolution Extreme is designed primarily as an open-water go-fast boat.  It may be used on wild rivers but is more prone to 'boil grab' due to the straighter keel rocker.
The Evolution Extreme hull water-plane is designed around a different criteria to that used for the Evolution Classic and Evolution Edge which are primarily designed as river boats that also work very well on open water.
At the waterline the Extreme has a 'diamond' water-plane form similar to, but longer than, that used by most top K1 racing kayaks. The 'diamond' water-plane results from the bow lines running directly to the widest point at the cockpit and then returning directly to the stern. This hull configuration whilst being proven to be very fast in anaerobic paddling intensity, also produces a wider cockpit area than the other Evolutions are able to offer. This wider cockpit coupled with fine ends allows the Extreme to be settled to full waterline length by paddlers as light as 60kg. As stated above, this kayak is usable by any paddler of any weight who can fit the cockpit.
Note:
We state above that the Evolution Extreme is optimised for 60kg paddlers. This means a 60kg paddler will press the kayak draft deep enough to obtain full waterline (speed potential) length. The Evolution Extreme can in fact be paddled by any paddler who fits the cockpit which is the widest of all the Evolution models. The Evolution Extreme has been used by many (big brute) athletes such as Olympic Gold Medalist Ian Ferguson to set many 'open water' race course records.
Posted in: Multisport Racing Kayaks