Nordkapp Sea Kayak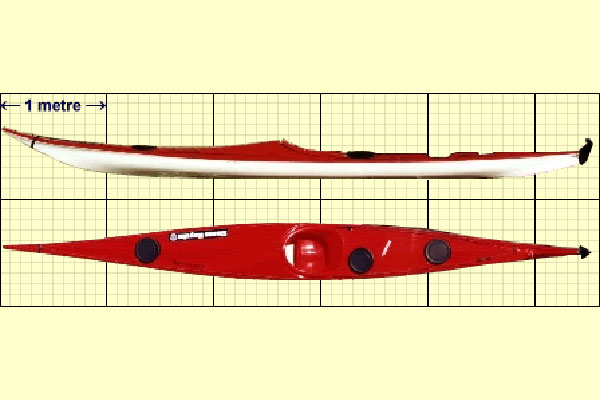 December 2019. Nordkapp production continues in Winton. Email Rikki Griffin – rikki@nautiquekayaks.co.nz – find out more.
The Inuit tribes lived in areas of widely differing land forms and prevailing sea conditions. In order to survive, West Greenlanders had to adapt their kayak designs to cope with the roughest sea conditions. These sea conditions are similar to those experienced in Britain and New Zealand, so it is reasonable to accept that a basic design configuration which worked so well for the West Greenlanders will also work well for serious New Zealander sea kayakers.
In 1974 Frank Goodman, after close appraisal of the lines of a West Greenland kayak, modified the lines to fit a European paddler plus camping gear. Thus Frank created the Nordkapp.
Frank was an enjoyable man to have living at home. Humorous and witty. However Frank was also sensitive and easily hurt. We purchased VCP hatch covers FOB airfreight. Which meant payment-on-arrival of the documents. VCP sent a shipment by (slow-boat) seafreight – and sued us for overdue payment – before the FOB documents (and the hatch covers) had arrived. We built our own hatch covers thereafter. Never heard from Frank again.
A simple "sorry" would have been nice. We went on to wholesale our hatch covers by the thousands. Every hatch cover wholesaled was a sale missed by VCP. Sad. Never needed to happen.
In 1976 Lynda and I had mortgaged our home in order to fund a sizeable one-shot-lifetime NZ Nordkapp design royalty to Frank – associated with the Nordkapp mould purchase that we had ordered off his company – Valley Canoe Products (VCP).
The Nordkapp hull has a central load carrying section that is slightly v-shaped at the keel with soft chines and flared sides terminating at a very high gunnel line. The whole of the deck is designed to minimise the effect of the wind pushing the kayak off course, whilst the profile also clears any 'shipped' water quickly. The forward section of the hull is triangular in section. The lower two sides cleave the water dynamically and effectively presents a rather higher wave cleaving surface than most other kayak bow designs. The top of the triangle is a convex flat area that presents a very low side wind profile. The aft hull section is similar to the bow but runs longer and softer. At the very stem the two lower sides of the rear triangle flow gracefully into a straight running skeg that adds much to the Nordkapps' directional stability in all water conditions.
Following our disastrous 1996 factory fire we decided to update the Nordkapp design slightly. The original Nordkapp had a very accentuated stern skeg which was designed before the days of rudders. Our latest Nordkapp is designed to incorporate a rudder. The general fit out of the Nordkapp follows the same pattern adopted 41 years ago when we constructed our first boat from the then brand new mould imported from the UK. Apart from making the cockpit foredeck higher (increased leg room) in 1986, and fitting pod seats plus rudders as standard in 1987, the boats are largely similar to the very first production. The focus is on simplicity.
Nordkapps manufactured by Sisson Kayaks have been paddled around the coastlines of New Zealand, Australia, Japan and Alaska. During all of these trips, which were sometimes conducted in heavy weather, the kayaks suffered no structural failure. Simplicity works at sea.
All Sisson Kayaks are custom built these days. You can choose the type of footrest, type of construction lay-up and all-up weight. We can advise you on what lay-up would best suit your overall needs. We built our first Kevlar kayak in 1982. It weighed 49lb all up and was used by Paul Caffyn on his Australian trip. In 1985 we went for broke and built a 30lb all up Nordkapp for Paul's Japanese trip. It is our understanding that this kayak is still in use more than a decade later. Our Kevlar experience goes back to 1977. Our early Kevlar projects involved the creation of helicopter fertiliser spreading, spraying and deer recovery equipment. Building the very best Kevlar kayaks was easy after that.
Fibreglass construction is sometimes described by others as being inferior. They should stop to contemplate the fact that there are large numbers of 35 to 40 year old glass Sisson Nordkapps still in regular use.
Sea kayak operators are often passionate about their choice of personal boat. Large numbers of these discerning paddlers own Nordkapps for their own personal use. Why?
When the sea turns nasty, the Nordkapp just gets better.
I had heard that not long prior to his death, Frank Goodman had made some comments relating to the original 1977 HS hull being superior to the hull on the later (VCP) versions. And that the 'new' VCP Nordkapp would feature the original Nordkapp hull. The Sisson Kayaks Nordkapp hull!
I recently mentioned this to a customer and he replied with this link on the VCP website. 
'Effectively these repeated incremental (SHRINKAGE) changes gradually turned the Nordkapp into a caricature of itself! '  
So sad to read about. Frank could have learned his mould making techniques from the very same place I learned my skills.
Before VCP – when Frank was still a school teacher making kayaks as a hobby – Alan Byde had written the acclaimed definitive book 'Living Canoeing'. Everyone in kayaking bought a copy. Living Canoeing even covered basic GRP (fibreglass) canoe building. Alan followed up with another best seller – 'Canoe Building'. This book taught me how to avoid shrinkage – and how to brace a cured mould.
Alan Byde has for many years lived in Picton NZ. I have visited him – and thanked him for the knowledge he imparted. A very humble pleasant man. In my judgement Alan would be difficult man to fall out with.
Just as happened to Lynda and I, Frank had threatened Alan with "Ruinous litigation". Alan had simply discussed the manner in which the Inuit hunters kayak had evolved – via several other kayak designs – into the Nordkapp. Frank seemed to not be able to separate the existing kayak examples that lead to his Nordkapp IDEA – from his wonderful CREATION of the Nordkapp SHAPE. There is a huge legal gap between IDEA and SHAPE. Frank ONLY owned the Nordkapp SHAPE. Lynda and I paid Frank Goodman a large royalty to use that SHAPE in New Zealand.
Regardless – the absence of Alan's Canoe Building book in the VCP bookrack has resulted in: – 'Effectively these repeated incremental changes gradually turned the Nordkapp into a caricature of itself!'
Wow! Over the years I had purchased two moulds (please do not ask about the Selkie) from VCP – and had wondered about their mould-making techniques. The official VCP article in the link above confirms my concerned thinking.
Meanwhile Sisson Kayaks still produces Nordkapps from Mould #2. Mould #1 was destroyed in the 1996 fire. The properly constructed #2 mould has zero shrinkage. The hull shape of Sisson Nordkapps is the same as the original April 1977 mould. Always.
My Nordkapp customers have always known this – for so many years. Some of my Nordkapp customers have 'stocked-up' with Sisson Nordkapps!
Posted in: Sea Kayaks