Peak Kayak
Without a doubt Sisson Kayaks was once the largest composite kayak and open canoe manufacturer in the Southern Hemisphere
Say it with pictures!
And a view from the stern
How do you like my roof rack? Would you believe this lot was valued at $60,000?
We once purchased thirteen 200 litre drums of resin – in one delivery. We purchased white gelcoat by the 200 litre drum. And this is how we purchased our race-kayak polystyrene foam – by the trailer load from Auckland.
Each winter – via our sponsorship of the Speights Coast to Coast we advertised nationwide demo days as far South as Invercargill and as far North as Kerikeri. New Plymouth to Gisborne.
And somehow we found the time to build about 70 Bumpa Boats for Nelson, Napier and Christchurch.
And more Demo Day action. We visited many amazing NZ places.
We knocked out quite a few Southern Light doubles
Meanwhile at the Speights Coast to Coast
We covered all skill levels in Multisport. From the elite athlete.
To the adventurer.
And all the time export export export
And a few more for Japan
Sisson TVC (Total Variable Custom) carbon frames used by sponsored champions Greg Fraine (Triathlon) and Jason Craig (track).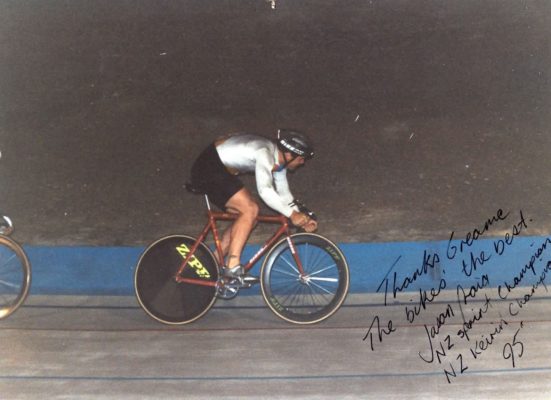 The TVC process accepts the custom paper-plan into the actual manufacture. Zero errors. Things looked good. The sales situation was bad. The 'market' decided Carbon fibre was 'washed up'! Titanium ruled. HaHa! Carbon 'washed-up?' Believe that now? I still own the TVC tooling – any offers?
Composite Cycles NZ Ltd changed from a manufacturing exporter into an importing retailer
Meanwhile Paul Caffyn continued to circumnavigate here there and everywhere
And not to overlook the Voyager
Helped along by others using our success in THEIR marketing. Not my choice.
Hmmmmmm
And a few more – like hundreds and hundreds exported LCL to individuals anywhere in the world – like this happy German customer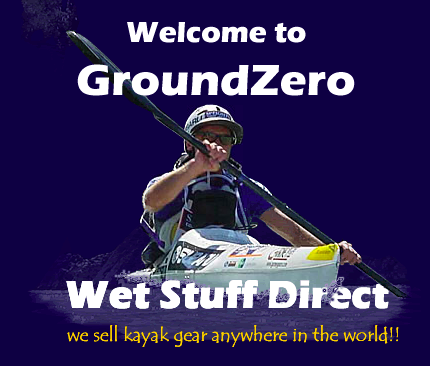 And meanwhile in the US Anne Dwyer was building a huge Kiwi Kayaks business
We also kept producing a few Nelson Luggers.
Dozens of street-side Transformer housings and thousands of underground power junction boxes. Oh – and hundreds of salmon farm feeders.
Our very first newspaper advert.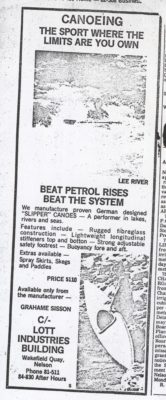 We never did master advertising! Our marketing, based on individual athlete AND event sponsorship was a bit more successful!
Partial list of kayak models produced – 1974 – 2011. (Two missing) Kayak models with an * means that in 2011 – a production mould existed.
Lettman Slipper Slalom – general purpose when fitted with skeg
Lettman Olymp 5 Slalom – general purpose when fitted with skeg
Gap 1 Compact (spraydeck capable) – Global original compact
Gap 2 Compact (Open cockpit) – Global original compact
Elite Slalom
18 ft Canadian – (Lynn Tuttle Supercanoe design)
Nordkapp (VCP Royalty Paid) – sea kayak *
Prospector Canadian – Classic North American design
10ft Canadian – Compact family fun
8ft Canadian – Baths Open Canoe Trainer
Bathbat – Baths Slalom Trainer
Surf Yack – Ocean Surf
Delphin 1 Down River Racer – DRR and multisport
Delphin 2 Down River Racer – DRR and multisport
Vision 2 Down River Racer – DRR and multisport
Trident Multisport – 'Blown-up' (enlarged) Vision 2 hull – multisport
Sting – Steve Chapman designed Slalom
Delaware  – General Family-Fun and multisport
Delaware 91 – Upgrade of above
Puyesgur sea kayak – Compact Sea Kayak
Selkie – Compact Sea Kayak
Arctic Raider sea kayak – Mid stability Sea Kayak *
Voyager – double Arctic Raider Sea Kayak *
Southern Light – double Sea Kayak using Lynn Tuttle hull
Southern Light EX  – exportable double sea kayak *
Eliminator multisport – Eliminated the Delaware
Eliminator 97 – upgrade of above – multisport *
Esprit – multisport *
Centrix – multisport *
Jaguar ICF K1 *
Woodpecker ICF K1
Stealth – Woodpecker hulled multisport – multisport
Woodstock Express – multisport
Contender – upgraded Woodstock Express
Triathlete – Global original multisport
Tri Extreme – multisport
Infinity – multisport
Evolution Classic – multisport *
Evolution Edge – multisport *
Evolution Extreme – multisport *
Evolution Omega – multisport *
Nucleus 60 – multisport *
Nucleus 80 – multisport *
Nucleus 100 – multisport *
Posted in: News