Pepin Sea Kayak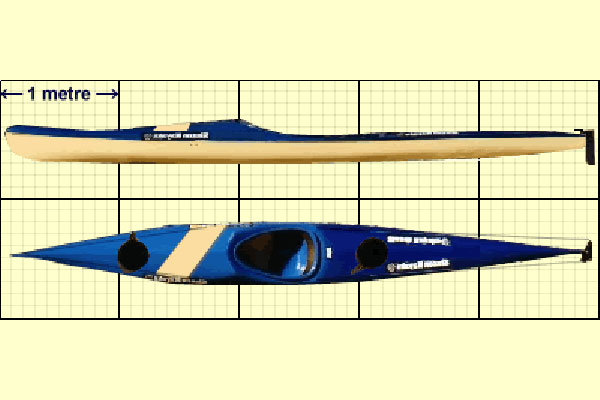 December 2019. Production continues in Winton. Email Rikki Griffin – rikki@nautiquekayaks.co.nz – find out more.
WE HAVE COME FULL CIRCLE AND MADE THE ELIMINATOR INTO A SEA KAYAK THAT BLOWS THE SOCKS OFF OTHER BUDGET PRICED 'SEA KAYAKS'.
When you take what is arguably one of the best sea kayak hulls, and make it into a competitive multisport racing kayak, you just happen to end up with a kayak that goes well in the sea! On land this kayak is light enough to carry your paddle in one hand and the kayak in the other – just try doing that with most similar priced 'plastic' sea kayaks!
By adding bulkheads, the floodable floatation volume ends up about the same as our older (pre-1985) Nordkapps have.
The fitting of two hatches to the decks allows for the placement of camping gear inside the floatation compartments. Should a larger hatch be required for the rear compartment, the optional large hatch upgrade can easily be fitted at the time we build the kayak to your order.
The decklines are securely fastened in the same way they are on our top line sea kayaks.
The overdeck rudder is fitted with a deeper draft rudder blade than that generally fitted to the Eliminator. This provides better directional control when on bigger swells in open water.
The cockpit is a full size opening and the seat is of a design that has been proven to suit a wide range of bottoms.
The footrest is the same as that fitted to the Eliminator and the rudder is activated and controlled by pushing the tillerbar with the toes.
Pepin owners wishing to use their boats for multisport may be apprehensive about the boats ability to 'crunch' over rounded river boulders in dry rivers. The concept of a river kayak with bulkheads is like aiming an axe head at the inside of the hull! Recognising this fact, we increase the longitudinal stringers from one to THREE ! This ensures that the bottom through the bulkhead-cockpit area is very self-supporting. When a rock is run over the bottom flex is minimised and the load is concentrated longitudinally rather than laterally. This results in less 'axe head damage'.
Refer "Astrolab" page for more details on the features of the Pepin construction and fit-out.
The Pepin will be a good multisport kayak for events on the likes of the Wanganui River where in high river flows, long swims are possible. With a paddle float, deep-water self rescues are possible.
The PEPIN is a versatile boat!
Posted in: Sea Kayaks