Skevolution Multisport Racing Kayak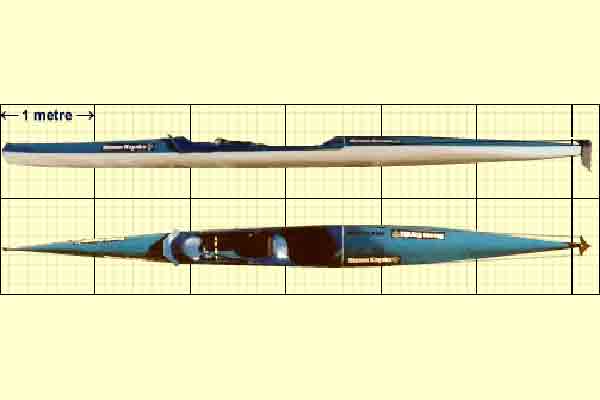 Take one Evolution Classic hull-deck unit and cut away the cockpit area. Add internal bracing and bond the custom designed surfski deck panel to the kayak deck. The resultant ski is no longer a kayak.
It is an Evolution Ski! A Skevolution!
Click to enlarge these photos
LEFT PHOTO:- The 300mm (12″) rule shown across the seat is actually 335mm (13¼") long overall because of the hanger hole extention. The ruler is in contact with the hull at each end. The roll of tape is placed to give some perspective of the seat depth below the widest point. The seat pan is 30mm above the hull keel. Note the steerer cord tubes that are fibreglassed underneath the deck = zero leaks.
RIGHT PHOTO:- The footwell and footrest area allows for a wide range of leg lengths. Current production Skevolutions use improved OZO footrests. The footrest shown is an obsolete brand. The current OZO pedals off easy footrest and rudder cord adjustment.
The internal structure consists of the same polystyrene foam blocks as used in the Evolution Classic. These are permanently held in position with numerous closed-cell-foam blocks. The sit-on-top pod unit is also bonded to the hull at the sides of the seat as well as the bottom of the footwell.
In all respects the Skevolution is the same as the Evolution (Speights Coast to Coast Race record-holding kayak) Classic except the paddler sits on top rather than inside the cockpit.
The wave deflector in front of the cockpit can be trimmed by the owner to suit local conditions. It is recommended that the owner should glue closed-cell-foam sheet into the seat and cockpit floor area to make a custom fit. Surplus volume in front of the footrest may also be filled with closed-cell-foam.
A drain plug is fitted to allow the air pressure to be neutral to changing outside air pressure. Always remove this plug when the Skevolution is not in use.
Posted in: Multisport Racing Kayaks