Southern Light EX Sea Kayak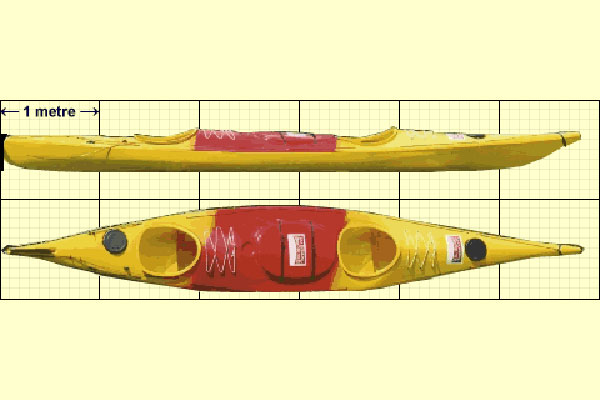 In the beginning…
Over a decade has passed since the 1989 release of the Southern Light double sea kayak. The 1989 version broke new ground in several areas of design and fit-out. Some of these are now touted as 'Industry standard features'.
Back in 1989 we developed the original boat in total isolation. No other New Zealand kayak manufacturer had built a kayak of this type. Our development motivation was simple – we wanted one of these boats for our own use. Our paddling needs were in hindsight the same as many future customers.
Now – to the 1996 EX version
It is shorter and more compact
The seats are even larger
The centre hold is even bigger
The rudder is mounted even stronger
The response to rudder control works even better
The hull is even softer riding into a head sea
The bow paddler gets an even dryer ride
The Kevlar construction option makes for an even lighter easier handled boat
The standard 4 lifting handles and two toggles makes onshore handling even easier
The 'Industry standard, footrest system is even more comfortable and easy to adjust
The above list was compiled from customer feedback. The above list was also our mission statement.
Our customers say we got it right!
The Southern Light EX is a whole lot more boat than other industry imitators. Who knows – it may even be a more affordable option!
Over many years the 1989 Southern Light has proven to be a very safe boat. There has not been even one reported instance of the Southern Light 'tipping over' on open water. There has been no reported instance of the Southern Light 'blowing over' on open water.
In all respects the Southern Light EX is an even better boat.
The concept as envisaged has proven to be a fact!
Paddlers of limited kayaking ability with uneven strength have completed many trips in total safety. The cargo hold concentrates the mass of both paddlers equipment where any ships captain worth his salt would put it… in the MIDDLE!
It you are confused about the comparative safety of different double sea kayaks, do this. Demand an on-water demonstration of the kayaks you most fancy. Load the cargo spaces with weight comparable to your camping/personal gear, roll the boat over on the water and execute a self rescue. In the Southern Light it's as easy as rolling it over upright and climbing in and paddling. That's right! The small amount of water in the cockpits is water ballast. Other doubles fair worse!!!! Some may leave you in deep trouble.
The manufacturers of some of the above suspect kayaks have recently adopted our idea of the centre hold. BEWARE! The Southern Light is the only double sea kayak designed from the outset as a centre hold boat. Some others reportedly "blow over" in strong cross winds.
The Southern Light was always designed to have a centre hold.
It's proven!!
Posted in: Sea Kayaks