March 2018.  Retirement is good. My retirement hobbies include energy substitution (going well), building a larger boat (started 1986 – burned 1996 – launched 2017) and the provision of safe drinking water nationwide (slow-to-stalled). I have made three public submissions, and two private submissions to the Havelock North Drinking Water Inquiry. The Stage 1 Inquiry Report indicates that source waters are not protected by the National Environment Standard for Drinking Water. "Your (polluted) stream is my drinking water catchment". The report also indicates that the Ministry of Health has been asleep-at-the-wheel whilst refusing to administer its own Drinking Water Standards for New Zealand (DWSNZ). The (nationwide) Stage 2 HN Inquiry Report has been released. Vindication! Expect huge Drinking Water changes ahead. To learn more – click on my 'ABOUT' dropdown menu. Then click 'Drinkable Water'
And why not broaden this website to include safe drinkable water? Kayaking is best done on water that is not polluted.
The historic stuff
I built my first boat at age 4. I remember the episode well. We lived on an orchard in Papanui Christchurch. I sealed up the gaps in a wooden black current picking tray with mud and launched it into a water trough. It floated – so I jumped onto it – went down like the Titanic. That was a very early lesson about hull volume! The second lesson – never do such testing just after my mum had me all cleaned and dressed to go to town shopping. I would have found the recently passed anti-smacking legislation handy that day.
I am a motor mechanic – starting my five year apprenticeship in Waiau in 1959 and finishing in Nelson. I started under Ted Robson and ended with his son Keith. Father and son taught me much more than spinning spanners. By 1969 I was Service Manager at a large Ford garage with responsibilty for 40 staff. In 1971 I attended The Ford Marketing Institute for three weeks. This Robert McNamara developed training  has served me well ever since.
In 1972 I was 'Head-Hunted to work for an even-larger 45 man Ford Dealership. In1974 I started my own manufacturing business assisting inventors to develop their ideas to market level. This involved both metal and fibreglass production. The diversified business grew rapidly until Robert Muldoon virtually destroyed it with his infamous Boat Tax.
Boats have never been far away in one form or other. My parents retired to the Grove Arm of Queen Charlotte Sound in 1960. By 1965 I had my own really fast (for 1965) ski boat. By 1968 I had my own racing hydroplane, which I used to win the 75 cubic inch (1200cc) class National Championship in 1969.
I had always been fascinated with kayaks because of the simplicity. When the opportunity arose – I had to have one.
Meanwhile we also used paddles
Since 1955 snow skiing has been my main sporting interest.
Snow skiing has always been my main sport. I love the mountain basins. I love the freedom. I love the challenge – my skills against the mountain. I love the speed.
My first multisport race was the 1987 Norsca Mountains to the Sea – as a team with Alan Fraine (cycle) and Mal Clarbrough (runner).
In 1989 I was the first Speights Coast to Coast sponsor to complete the event.
And always there had to be fun
And having helped Les Vincent plan this Nelson to ChCh race
Everyone else in the November race knew that my 'training' was the February Coast to Coast. With zero training I did 202 miles in 16 hours – including two flat tyres – caused by that hedgehog I dispatched at Coal Creek.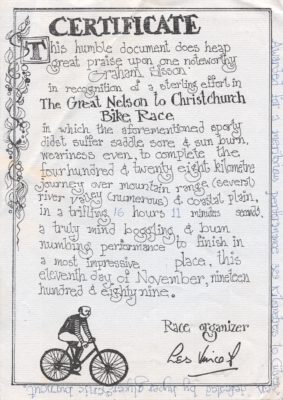 Now for the ultimate bike riding experience
These days we live in the Grove Arm of the Marlborough Sounds and ski in Methven. The six hour commute is better than watching TV. The summer Sounds climate is very nice. The winter Methven climate is very nice. We follow the nice climate.
None of the business achievements would have happened without the wonderful backup that Lynda has provided. Call it teamwork,
Here is an example. Teamwork – like the time I spotted the worlds biggest ice-cream in Queenstown – and just had to have one.
Since 1997 until 2010 my natural inventiveness that had previously reflected in product innovation, has been channelled 95% into the factory – which is off-limits to visitors.
The main manufacturing was done inside four 40ft containers that have been greatly modified. My manufacturing is very highly mechanised. Designed to minimise effort whilst maximising productivity. Sounds familiar! Maximum distance-made-good for the lowest fuel burn!
"This Methven composite 'hobby-workshop'  is the best workplace I have ever worked in. Great music thru the Apple Airport! Air conditioned to set temperature – and very – very efficient."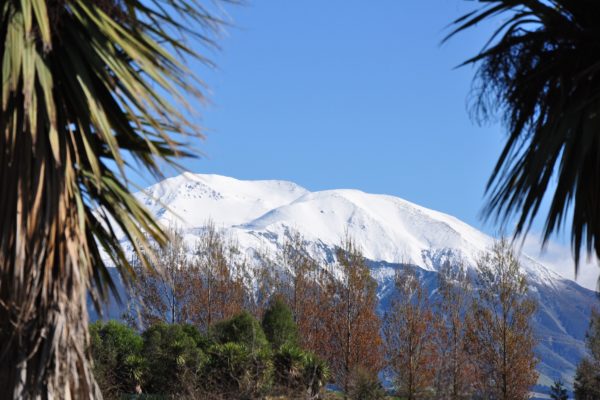 Must rush now – the mountain calls>>>>From our garden.
Grahame Sisson