Defender Racing Kayak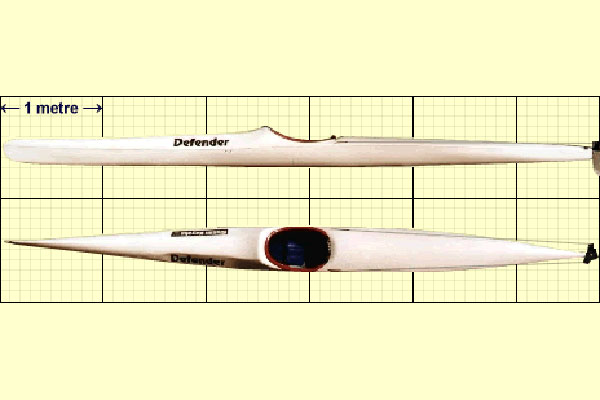 December 2019. Production continues in Winton. Email Rikki Griffin – rikki@nautiquekayaks.co.nz – find out more.
Multisport, the New Zealand invention is now a rapidly developing sport overseas. In Australia the sport commenced several years ago with the advent of the Subaru Classic race series. Steve Gurney won several cars using a Sisson Kayaks Infinity. One reason Steve did not use his larger Evolution kayak was due mainly to the fact that it is very difficult to travel overseas with such a long boat.
For export reasons alone, we needed to develop an Evolution type kayak that would fit inside a 20ft container. In addition, our market research has shown the need for a large kayak that is midway between the Evolution Classic and the Esprit in both performance and stability.
We call this the Defender.
The Defender is the optimum kayak for the multisporter who needs a compact 'Evolution' style boat. The shorter length also allows for easier car-topping and in-garage storage.
The on-water performance of the Defender in a river will be slightly less than an Evolution Classic. On open water the performance will prove to be very similar.
The primary stability of the Defender is less than an Esprit and more than an Evolution Classic.
The Defender is styled in the same manner to the Evolutions. In all respects the Defender is similar to the Evolution Classic except it has a shorter length and a wider beam at the waterline. The available space in the cockpit is larger and more spacious at seat level. Paddlers with wider bottoms are able to use lower seating arrangements thus accentuating the already good stability.
The Defender is only available constructed in Kevlar lay-up.
Posted in: Multisport Racing Kayaks