Nucleus 60 Racing Kayak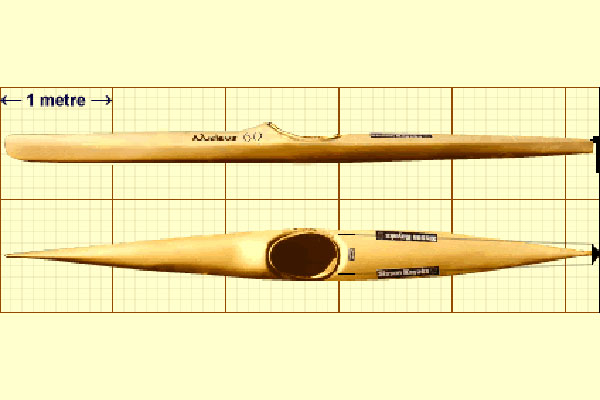 December 2019. Production continues in Winton. Email Rikki Griffin – rikki@nautiquekayaks.co.nz – find out more.
The Nucleus 60 is optimised for light paddlers. However heavier paddlers up to 100kg who like a 'tight' boat are taking the Nucleus 60 up to Evolution Classic type speeds in actual races.
This is the first of a 'new generation' of go-fast boats. The normal waterplane is narrow and fast. The '20 degree-list' waterplane is wide and stable! This is not a contradiction – it is just sensible design based on years of experience.
Steve Gurney reports similar moderate water performance over timed training courses as he does in his Evolution Classic. This performance was also observed by New Zealand Multisport Magazine when they quoted "– then turning against the waves at the river mouth it not only turned quickly, but had secondary stability far superior to the Evolution (Classic). The biggest surprise though was coming back up the river when it clocked in within two seconds of the Evolution (Classic)"
The whole kayak is scaled to fit a smaller paddler. The length and beam are the same as the Nucleus 80 and 100. In fact the deck on all three models, when viewed from above, shows only minor variations relating to volume.
However the side view of the Nucleus 60 reveals a very sleek profile with reduced (than the 80 &100 version) rocker, lower overall profile with reduced volume around the legs and knees. The Nucleus 60 cockpit coaming is set low so that a shorter paddler's buoyancy aid will not interfere with the spraydeck. The spraydeck coaming is the same as the Evolutions. The famous secondary stability of the Nucleus 80 flair is even more accentuated on the Nucleus 60.
Experienced relaxed paddlers will discover the Nucleus 60 to be very stable in all conditions.
A very satisfied customer says. "I sold my Opus and raced against my Opus paddling friends who usually have 5 minutes in the hour advantage over me. Paddling my brand new Nucleus 60, I was right there with them in the race".
Karen Hopkinson, another satisfied customer says "I managed 10th overall – first woman to break into the top 10 !!!" Karen won the woman's section of the (Victoria Australia) 2000 JLL Challenge and "- paddled the Nucleus 60 on Lake Eildon & beat a fair few men in some rather…(censored for reasons unstated!)…" Well done Karen! Keep it up.
Posted in: Multisport Racing Kayaks